Life Alert News:
What looks good with wearing Green on St. Patrick's Day?
Traditionally in America, if you don't wear green on St. Patrick's Day, you run the risk of getting pinched. Green is the color of spring, shamrocks, nature, and of course the Emerald Isle. So, as you prepare your green St. Patrick's Day ensemble make sure the luck of the Irish is with you in the event of a medical or home emergency by carrying this little item. No, it's not a fairy in your pocket; it's much better than that. Just get yourself a fashionable Life Alert pendant.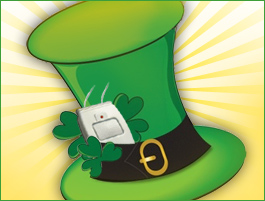 One touch of a button on the lightweight, waterproof pendant summons the emergency dispatchers to help you in case of medical, fire, CO gas poisoning, and home intrusion emergencies. So if you feel yourself turning many shades of green due to too much Corn beef and Cabbage, simply press your button and help will be sent as fast as a leprechaun hiding his gold.
A man's home is his castle, so remaining safe and independent in one's own home is just as important as having a tap in a pub. In a survey taken by ACNielsen International Research, 87% of Life Alert members said that Life Alert's protection is a main or important factor in their decision to keep living at home rather than going to a retirement institution. Life Alert's medical alert system gives peace of mind to family members while providing emergency service to their loved one when needed. Life Alert provides seniors independence by allowing them to remain in their own home. Remaining in your own home can help you with something else that's green…Money. The cost of a 36 month membership with Life Alert is less than one month's rent at a retirement community, and that's no blarney.
And speaking of things that are green, you don't need a 4-leaf clover to be able to afford the best emergency response system; Life Alert's price protection agreement provides pot of gold coverage packages, ranging from basic protection - to - monitored CO Gas and Smoke alarms. Best of all, Life Alert guarantees a fixed cost for the life of the contract, and allows the user to cancel the agreement if s/he enters into a nursing facility. Most importantly, Life Alert's membership is very affordable with basic monthly service being less than the cost of a cell phone plan or cable service.
Life Alert also offers a special 911 phone so your protection can be as mobile as you in case you're out walking when suddenly you trip and find yourself on the ground with a face full of shamrocks. Simply push the 911 phone and help will be sent.
Beware of Imposters! Just as people dress up and pretend to be Irish on St. Patrick's Day, Life Alert also has people pretending to be the industry leader in medical alert. So watch out for those who try to sell you a Life Alert system. Only Life Alert Emergency Response can sell the original "Help! I've fallen and I can't get up!" system. A way you can tell the difference is to ask where their emergency center is located. Many medical alert companies farm out their emergency center, which is the most important part of the service. Sadly, a 3rd party isn't going to be as invested in your safety as much as a company that runs and manages their own center. Life Alert not only owns it's only dispatch center but their Emergency Managers go through an extensive training program spending up to one year learning about the medical alert industry, equipment training and recognizing various emergencies. They are trained to identify the emotional needs of the family and will supervise a crisis from the beginning to the end.
So this St. Patrick's Day wear your fashionable life alert pendant which goes with green, and basically everything else, and enjoy the festivities knowing that help is just a button push away.
CALL 1-800-247-0000
For Real Life Stories From Our Members Click Here!